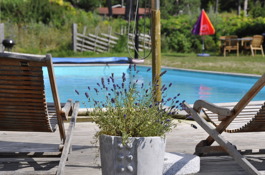 Strandbacka holiday village is located on the southwestern part of Gotland, about 2 mil south of Visby in a small village called Gnisvärd. Strandbacka offers an environment with everything from swimming and sunbathing, to beautiful hiking areas where you can find your favorite spot along the way. The holiday village is located next to Tofta beach.
The village area is located close to the sea and is approximately 4500 square meters with 11 cabins for rent - from a simple cabin with 2 beds to the large cottage with 10 beds, a big terrace and a fireplace. Around the area ypu will also find amenities including a swimming pool, a washing machine and a kiosk. The kiosk is open från June to August.
Gnisvärd is known for the fishing huts, the endless beach, the beautiful fishers church and Gotland's longest stone ship. Take a trip around the neightbourhood and find your favorite spot.
The pool is 6 x 12 meters and 1,4 meters deep. The pool is available to our guests and open from week 26 to week 32.
Strandbacka Stugby • Gnisvärdsvägen 47 • 622 65 Gotlands Tofta
Telephone 0498 26 51 50 • info@strandbacka.se • www.strandbacka.se